Great Rollerblading Routes
On this page we have some maps and logs of fun places to skate, mostly in Boston and Cambridge.

Jamaica Pond, Arnold Arboretum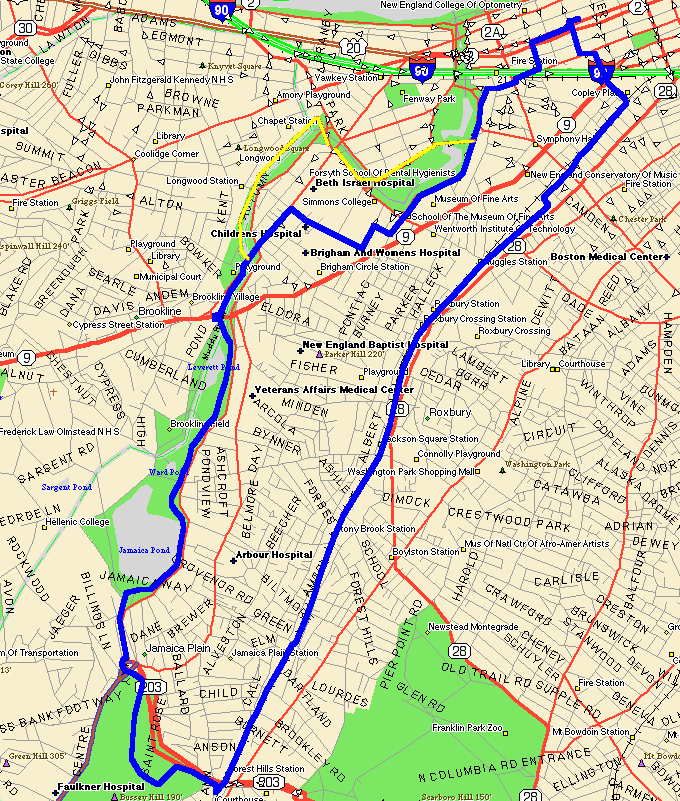 DPV and I did this tour on 23 Nov 2001. This is almost entirely parkland for the whole route. The yellow line is a possible alternate to stay inside the park a little bit more. We came back through the linear Southwest Corridor Park.
---
Charles River, Waterfront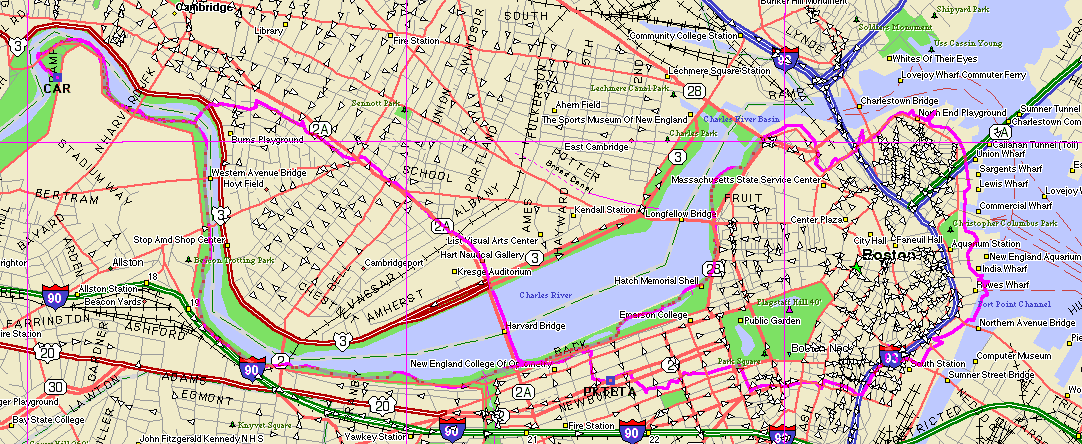 I did this alone on 28 Oct 2000. I thought it was going to be a nice day, but the temperature dropped suddenly. I nearly froze coming back along the Esplanade, and finished by taking a short cut through Cambridge to get back to my car.
---
Brookline, Jamaica Pond, Arboretum, Waterfront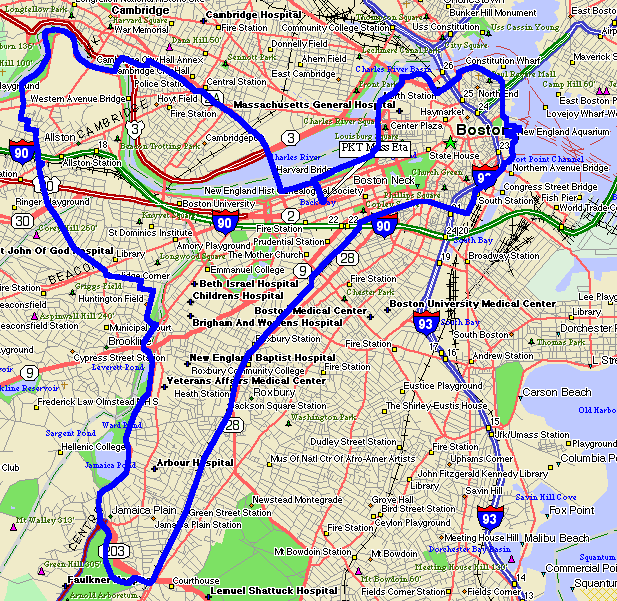 This is a proposed combination of the above two loops. The jaunt across Brookline is a portion of the thirty-four mile trek that I used to do beginning in Bedford on the bike trail through Lexington, Arlington, Allston, Brookline, Jamaica Plain, Roxbury, the South End, Beacon Hill Cambridge, and back out to Bedford.
---
Esplanade, MIT, B.U.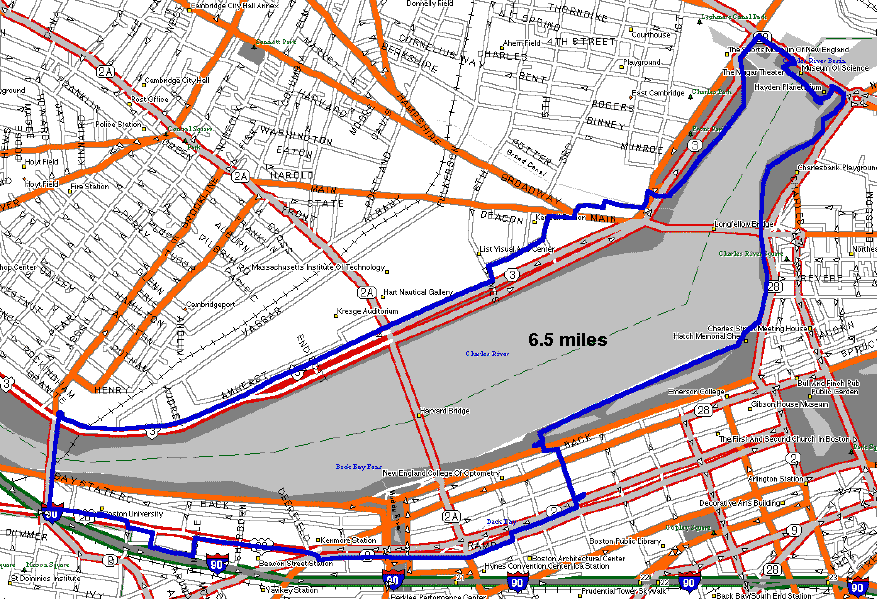 PSH and I did this short loop on 26 May 2001.
---
Berlin
Estrel Hotel
Sonnenallee
Saalestr.
Niemetzstr.
Braunschweigstr.
Kannerstr.
Richardstr.
Richardplatz
Karl-Marx-Platz
Karl-Marx-Str.
Hermannplatz
Urbanstr.
Mehringdamm
Mehringbrücke
Hallesches Ufer
Reichpietschufer
Linkstr.
Eichhornstr.
Marlene-Dietrich-Platz
Alte Potsdamerstr.
Potsdamer Platz
Potsdamer Arkaden (Sony)
Potsdamerstr.
Schöneberger Ufer
Lützow Ufer
Lützow Platz
Schillstr.
Kurfürstenstr.
Budapesterstr.
Olof-Palme Platz
Breitscheidplatz
Kaiser-Wilhelm-Gedächtnis Kirche
Kudamm
Fasanenstr.
Lietzenburgerstr.
Uhlandstr.
Hohenzollernplatz
Uhlandstr.
Düsseldorferstr.
Brandenburgerstr.
Adenauerplatz
Lewishamstr.
Stuttgarter Platz
Kaiser-Friedrich-Str.
Kantstr.
Windscheidstr.
Schloßstr.
Schloß Charlottenburg
Kaiserdamm
Luisenplatz
Schloßbrücke
Bonhoeffer Ufer
Mierendorffstr.
Mierendorff Platz
Kaiserin Augusta Allee
Alt Moabit
Washingtonplatz
Moltkebrücke
Willy-Brandt-Str.
Bundeskanzleramt
Bundestag
Reichstag
Entlastungsstr.
Straße des 17. Juni
Sowjetisches Ehrenmal
Brandenburger Tor
Pariser Platz
Unter den Linden
Glinkastr.
Behrenstr.
Friedrichstr.
Checkpoint Charlie
Kochstr.
Oranienstr.
Moritzplatz
Oranienstr.
Oranien Platz
Seglitzdamm
Wassertorplatz
Kohlfurterstr.
Kottbusser Tor
Kottbusserstr.
Kottbusserbrücke
Kottbusserdamm
Hermannplatz
Sonnenallee
Hotel Estrel

I did this 25 mile tour on 28 April 2001.
---
Fenway, Hospitals, Coolidge Corner, Bridges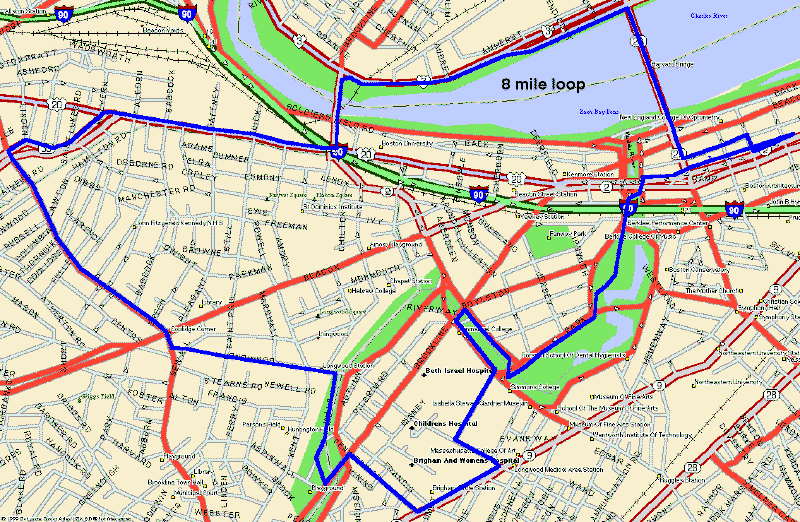 5 July 2002 - 8 mile loop.
---
London: Chelsea, Thames, Tower Bridge, City, Seven Dials, Soho, Whitehall, St James's Park, Buckingham Palace, Belgravia.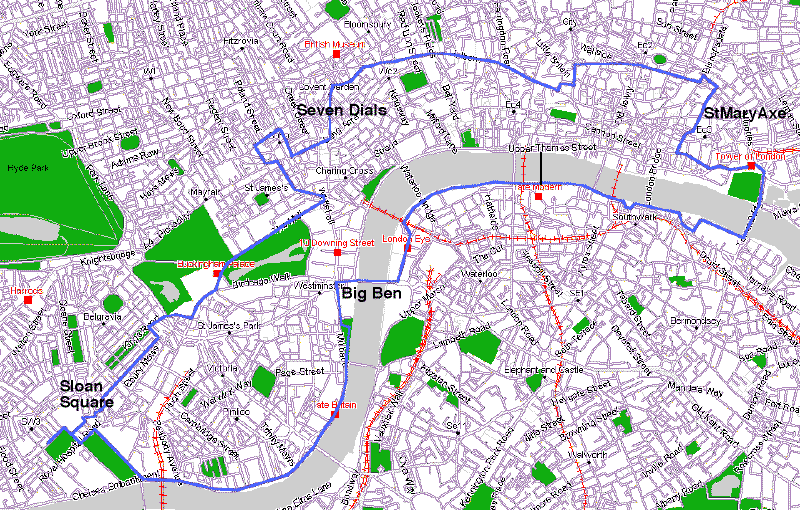 14 July 2002 - 3 1/2 hours.
---
South Acton, Stow, Boxborough, and a touch of Harvard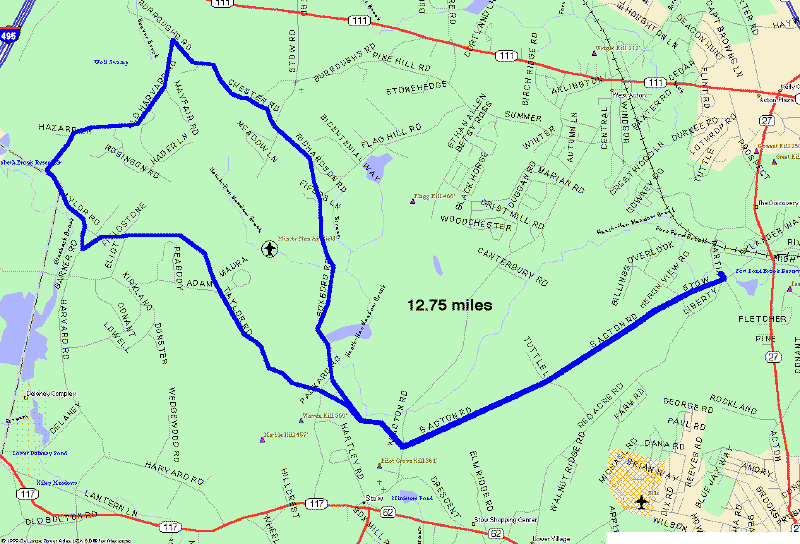 21 July 2002 - 12.75 miles. With Brandy and Michael Geis.
---
The Nashua River Rail Trail: Ayer, Groton, Pepperell, Dunstable, Nashua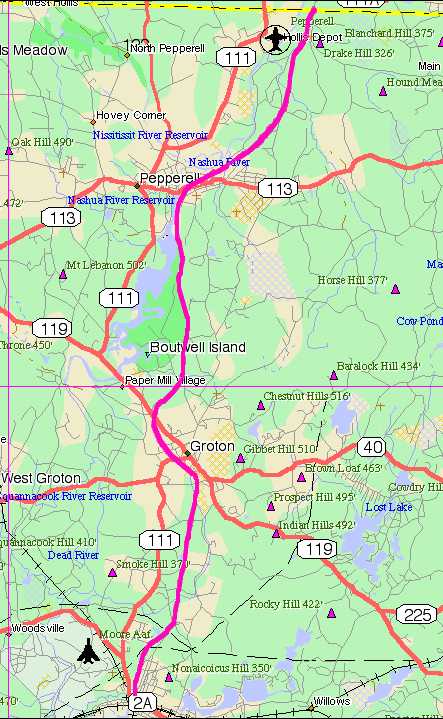 31 August and 14 Sept 2002 - 22.6 miles round trip.

This is a very nice trail entirely through woods with very few street crossings. Pam accompanied me on bicycle. The GPS track log shown was made on 14 Sept 2002. We now skate this trail often. There are nice parking lots at the ends and at several of the crossings along the way. The Ayer end is directly opposite the commuter rail station. In 2002, the north end of the trail was at the New Hampshire border, but it has since been extended another quarter of a mile to NH 111A. In the business center of Pepperell there are several convenience stores (some with good deli sandwiches) and an ice cream shop.

---
Paris: 1991
Pam and I went to Paris from 24 November to 1 December 1991. Every morning, I would get up at the crack of dawn and rollerblade for a few hours and then pick up nice cheeses to bring back to the hotel to augment their sparse continental breakfast. There are six loops shown here.
---
Vienna: 2006
During our 2006 vacation, Peter Ranisch took me on two grand tours of Vienna, each about an hour and a half, on the mornings of 15 (orange) and 16 (green) July.
---